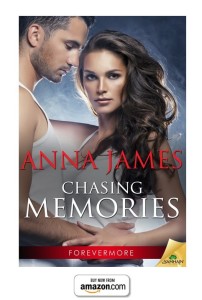 Four Stars for CHASING MEMORIES

–

This book has the perfect blend of mystery and romance! Character tension is excellent, as is the gradual romance. 
The sex scene are flaming, descriptive and in depth. They will certainly leave the reader feeling hot under the collar! Overall, this is

very good novel

with the ideal blend of romance, tension and mystery. The second in the Forevermore Series, this novel will send readers running for the first installment! ~ InD'tale Magazine
Five stars for CHASING MEMORIES

–

Wow! I really loved the suspense in this book! From the very beginning I just couldn't stop reading it. It really kept me engrossed in the story ~ Once Upon An Alpha
4.5 stars/3 flames

–

I really enjoyed reading

CHASING MEMORIES

by Anna James! A romance mixed up around a mystery was a lot of fun to read. 
The plot is totally believable and James does a great job of weaving the whole mystery solving around the romance. I loved how she reveals little pieces at a time. This is my first book by Anna James and I have to say, I am a fan of her writing style! She writes in a way that was fresh and appealing. I invite you to give Chasing Memories a try! You won't be disappointed! ~ Deborah (Goodreads Reader)

Five stars for A LOVE WORTH SAVING

– 

This is a romantic and emotionally satisfying story — I look forward to more of this author's books ~ Julia (Amazon Reader)
Four Stars for A LOVE WORTH SAVING

– 

This novella has plenty of emotion and James signature smart characters and dialogue. I am getting to the point where I read all of her work now. It is nice to see how deeply the man was affected by miscarriage too. The epilogue is surprising yet satisfying. Another fun read from James! – Amy (Amazon reader)
Four Stars for A LOVE WORTH SAVING

– 

Anna James has crafted a love story isn't picture perfect like many authors want you to believe but one where Ashley and Reed's relationship has its bumps and heartbreaks. I really enjoyed this story ~ Brenda (Amazon Reader)


With enough mystery to keep you turning pages, Anna James offers up a sometimes sweet, sometimes sexy reunion romance in

THE BUSINESS OF LOVE.

Smart yet vulnerable Sophia is easy to root for and Dante is the ultimate alpha-male who falls powerless around his one true love. Readers are in for a treat! – Author Dani Collins.
 4 Stars for THE BUSINESS OF LOVE – A hot, dark, brooding hero paired with a younger, more innocent heroine, Ms. James weaves intrigue and surprise into this classically arranged chick-lit tale.  ~InD'tale Magazine.
 

THE BUSINESS OF LOVE

–

Another hot and sexy bo
ok by this amazing author… Get it today…
I want to give it more than 5 stars!
~ Net Galley Reader
KEEPING HER GUILTY SECRET

i

s a fast-paced read that pulses with romance and passion, mystery and suspense. It's also the first in a new series by author Anna James, and it will leave you eager for more! ***** USA Today Best Selling Author SANDRA MARTON
KEEPING HER GUILTY SECRET

 

is packed with high octane chemistry, it's a sizzling story that hits all the right spots. The characters are well developed, making it easy for the reader to get interested in the story.*****Romancing The Book (Amy W.)
5 Hearts for KEEPING HER GUILTY SECRET – 
I really enjoyed this story and I can't wait to read what comes next in the series.*****The Romance Studio
KEEPING HER GUILTY SECRET –
A short story that kept me engaged. Super hot heat between Max and Nicole and I loved the surprise twist at the end. *****Cocktails and Books (Michelle)
KEEPING HER GUILTY SECRET

 
is a quaint, quick read that provides a good summer escape. *****InD'tale Magazine (Mia)